Gourmet Blended Spices

Est.1993

"Zachary Spice" Best Blackening Spice in the USA







This is example text. Please click here to edit the text.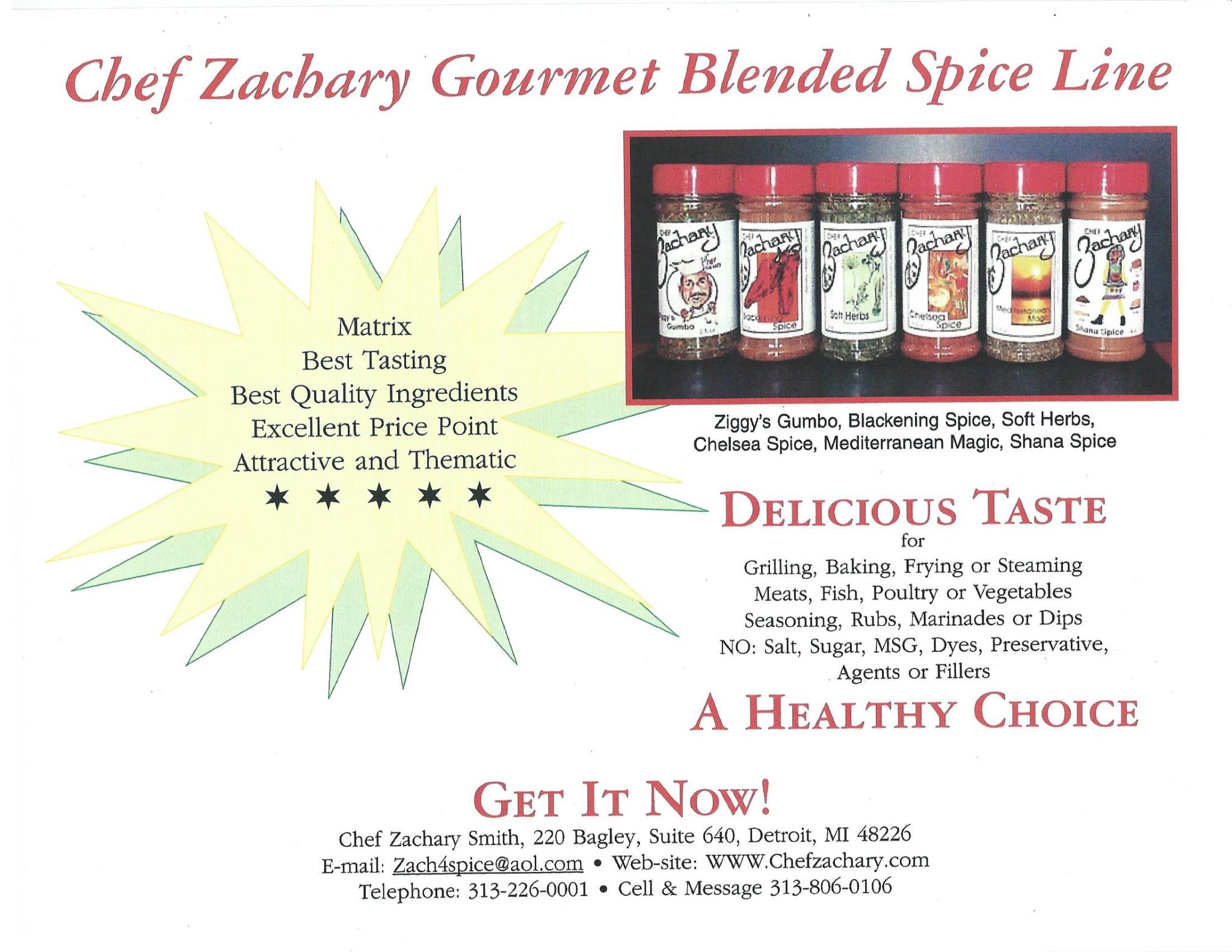 Master Chef Zachary's products click on products to purchase or 3 lines in top righthand corner Thank You
Enjoy Life Chef Zachary
Chef Zachary's Products


v Chef Zachary's
Zachary Spice
A masterful blend of the best quality hot peppers and herbs that takes you on a roller coaster ride of flavors and heats, tantalizing every taste bud in your mouth. Rub or sprinkle on fish, meats, poultry, vegetables, sauces or anything you like. Chef Zachary originally made this blend for Mums a famous San Francisco supper club to use on Swordfish. "For the Hotter the better club"
100 % Heart Smart No Salt, Sugar, M.S.G., Additives, fillers and Gluten Free $10.00 each

Chef Zachary's
Chelsea Spice
This is Best All-purpose season blend in the World. Great on everything. I tell people, need a go to spice! look no further. Amazing flavor on anything. Chelsea spice is a harmonious blend of the best mild and sweet peppers, garlic, onions and a hint of fennel. Chelsea spice works great with Rib, Chicken, Fish, Lobster, Meat, Poultry, Vegetables, cheeses and Sauces. Rub or sprinkle. Chelsea. Love Dad. "Soul food" Enjoy Life Chef Zachary

100 % Heart Smart No Salt, Sugar, M.S.G., Additives, Fillers and Gluten Free $10.00 each
Chef Zachary's Duet Chelsea & Zachary Spice
$20.00 a pair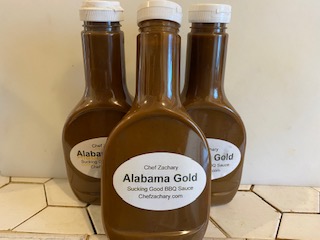 Alabama Gold Sucking Good BBQ Sauce
Good on Pork, Chicken or anything
Over 100 year old recipe by Chef Zachary's Grand father
Alabama Gold Sucking Good BBQ Sauce
Good on Pork, Chicken or anything
Over 100 year old recipe by Chef Zachary's Grand father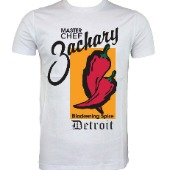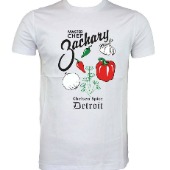 The first line of blended herbs and spices that are 100 % Heart Smart. Made by America's Master Chef Zachary Smith. Chef Zachary's Gastronomic cuisine of seasonings. Turn ordinary into extraordinary and boring into brilliant with just a shake. Spice up your Life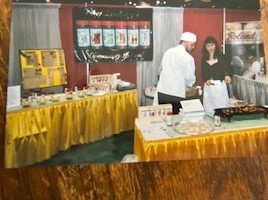 Fancy Food Show in Chicago
Z-Turkey by Chef Zachary Smith:
http://youtu.be/lmRk5WuiKvA
Chef Zachary's Z-Turkey http://youtu.be/lmRk5WuiKvA
Gregorey Hines and Chef Zachary's Crème Berry Royal an elegant French dessert at a Charity in Detroit
Bio of Chef Zachary

Zachary Smith born in Detroit, Michigan – the first born of "the best mom and dad in the world" and wonderful grandparents. According to Zach, "Detroit was the coolest city in the world to grow up in." He grew up with just enough close buddies to have fun exploring, fishing, playing sports, engaging in outdoor and indoor activities such as pool, dancing, roller skating, art, and listening to the music of the day like Motown Revue. Life was great dancing and partying with the Motown entertainers "the best". Zachary grew up fast. Zachary considered to be cool, a fancy dresser and hip, perfect qualities for the chef he was to become.
Zachary's love and experience with food started at home watching his mom cook fantastic food. By the age of nine, he was an accomplished cook, able to cook all the foods his family ate. In high school he had a job as a dishwasher in a Smorgasbord. The large variety of foods there ignited his curiosity. Later in high school, working at the best catering house in Michigan and seeing the chefs there make everything from scratch planted a seed.
Zachary went to college at Arkansas A, M & N majoring in biology and math his favorite subjects. Seeing that he needed a change of lifestyle, his aunt took him to California. California was a dream come true.
Career, it took a while before things started going Zachary's way. He got his best break when he broke his leg. Sitting at home with a cast, he saw a lady with special needs living a normal life inspired him to stop feeling sorry for himself. He became a student in culinary school. There he discovered a goldmine. As a student in culinary arts, his most amazing journey of love, excitement, action, fun, skill, entertainment and romance began. Zachary went to culinary school at Canada Foothill College in Redwood City, California, where he would meet professor, chef, mentor, "pops," guardian, friend and consultant Alec Cline who would mentor Zachary through his amazing career. Zachary would spend hours reading culinary books in Chef Cline's home library. In culinary school he was confident, he stood out with coordination and creativity. When Chef Cline asked Zachary what kind of Chef he wanted to be, Zachary responded that he want to be able to run a class A hotel or restaurant anywhere in the world. Chef Cline told Zachary to keep his head down and not call himself a chef for ten years. Chef Cline put Zachary on a European style chef training and tempered him into understanding what it was to become a great chef. Ten years later Zachary looked up and people where calling him chef. He was the Sous Chef of a Gourmet French Hotel. Chef Cline refered Chef Zachary as a quality man.
Chef Zachary was Blessed to fall into a craft he loved and would bring the world to him. Love of cooking and a desire to serve the finest fare in the world using a treasure chest of magnificent gifts, technics, recipes and flavors with which to entertain and romance guests. Chef Zachary studied French Cuisine, considered the best in quality and techniques of food preparation. There he experienced everything he could, even ice sculpture. His goal to become a master chef like Marie-Antoine Careme and Auguste Escoffier was becoming a reality. He was fortunate to learn precision techniques and recipes not found in books. He was blessed to become a classically French trained gourmet chef. Zachary put it, he was trained by a chef, who was trained by a chef, who was trained by a chef, who was trained by a chef who was trained by Escoffier. There was an aroma in the air Food Art "Finest quality of food, technical skills and creativity". Zachary would portray this level of quality in any cuisine. An international gourmet chef who was also capable of producing his native American Soul food and California cuisine as well as international cuisines such as German, Mexican, Italian, Cajun, and Asian. He was a roundsman who worked every position in grand hotels and elegant restaurants a true master chef. During the 70's to 90's Zachary was a celebrity chef in San Francisco. The top chefs at the time were Jeremiah Tower, Alice Waters, Patrick Giddings and Narsai David who was considered the Godfather. Chef Zachary was fortunate to meet and work as chef for David. Zachary held quality chef position in Carmel, Monterey, San Francisco, San Mateo, Garberville California, Grosse Pointe MI and Detroit. In 1984 Zachary was hired by Hyatt Regency SF to open a gourmet restaurant. He shortly became the lead sous chef in charge of the largest and finest Sunday Brunch in San Francisco. One of the largest and finest hotels, Hyatt was a chef's dream. With its elaborate buffets, ice sculptures, international foods, and Bay to Breakers race giant pasta feed which served up to 7,000 to 8,000 people every year. There for five years, he wrote and started menus for all the restaurants, trained chefs and was involved with all special events. In 1989 he left to be executive chef of a 5-star French Restaurant, one of his most joyful positions. Ben Bow Inn considered to have the best food in a 200 mile radius of SF.
Chef Zachary relocated to Detroit in 1990 to support his family. He became a highly regarded chef in Michigan, known for the quality and creativity of his food. Working in Grosse Pointe at One23, he was considered one of the top chefs with his San Francisco and European styles of fine food.
Then Chef Zachary ventured into his own gourmet catering. In 1993 he developed and marketed a line of gourmet spice and herb blends. Taking on this venture by himself, he successfully marketed and sold these blends in the finest stores in America, from New York to California. Chef Zachary was ahead of the game with these blends, the first Heart Smart products of their kind. There continue to be a need and a demand for Chef Zachary's blended spices with their beautiful flavors and amazing health qualities. The time is Now.
Chef Zachary "I will serve everyone as I would my own mother!"
Enjoy Life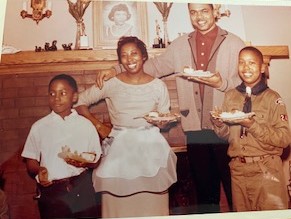 Smith Family
This is why I am the Best cook I Know.

Catering for the Gods
By Chef Zachary


Consulting, designing, creating, flavoring and classes.